How to Win Over your Bride *Before* the Wedding
Posted by Peta-Gai | no comments
A few weeks ago, I received a slightly panicked phone call from a soon-to-be Groom, Braydn, wanting to know if I could do his fiancée's wedding hair and makeup in three days' time. I was actually booked, but I managed to move things around and I could help them out because this groom was a total sweetheart, told me how he'd proposed at the bottom of the Eiffel Tower and that he REALLY wanted to get a great Hair and Makeup Artist to look after his Bride and make her look her most gorgeous self on their big day. And because I'm a total softie, I had to make it happen…and so began the journey of "The Groom's Secret Present of Glammification for his Gorgeous Bride".
The backstory was that the Bride had decided to do her own hair and makeup to keep within budget, and had had a trial run and things weren't looking as glam as they were hoping they'd look. Now, doing your own bridal hair and makeup is something a professional Hair & Makeup Artist would never recommend. The tricks we use to create shading and light on your face that are all picked up by the camera on your most photographed day of your life, the corrective eyeshadow techniques we know to make your eyes look bigger, and the rather expensive and highly pigmented products that we use that ensure your makeup lasts all day and night, and ensure your curls will not drop, are all reasons why it's better to employ a professional. Everyday makeup is NOTHING like makeup you need for the biggest day of your life.
A great Makeup Artist knows what will happen to your makeup in low light, in a flash, in harsh sunlight, in the back of the limo and everywhere in between – and we design that makeup look accordingly. Your usual slapping on of foundation, probably without a primer, quick mascara and sweep of eyeshadow just isn't going to cut it when you're in your big white dress, and all eyes on YOU. So I'm always glad to help our on such a momentous occasion!
Thankfully this amazing Groom decided to surprise his almost-wife with the gift that just keeps on giving – ME!
Our Gorgeous Bride, Cindy, hair and makeup by Peta-Gai for Iridis, assisted by Charlotte Clark, Iridis Makeup & Hair Artist: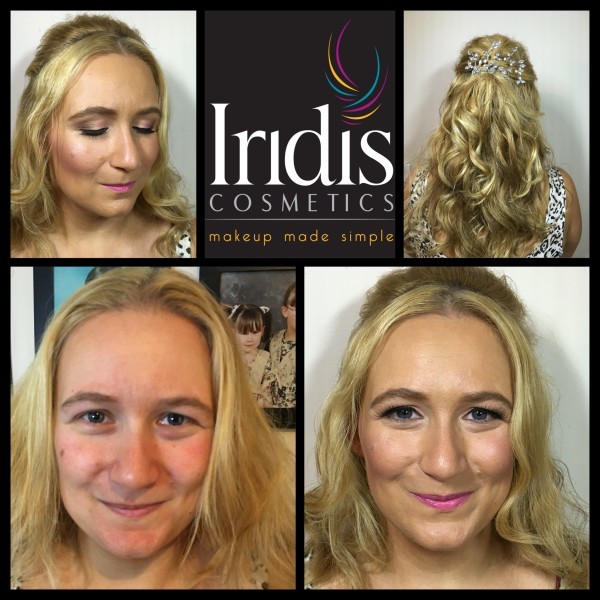 It was so exciting; I rehearsed what I was going to say when I turned up at the door to the unsuspecting bride. I'd made sure the bridesmaids knew what time I'd be there, and that Cindy would be the one to open the door. I knocked, my heart in my mouth, and as she opened the door with a rather puzzled look on her face, I got even more excited, especially when her face turned into one of awe, shock and happiness as I started speaking.
"Hello Cindy! I'm the present from your Groom, Braydn, and he has sent me here to wave my magic makeup wand and get you all extra glam and gorgeous for your big day!" Well, she had tears in her eyes and she was so excited! It was pretty darn cute. Definitely one of my real highlights as a Hair & Makeup Artist! I got a bit emotional too, because they're clearly a very sweet couple and I wish them a life of happiness and more gorgeousness for their marriage and lives ahead.
Bradyn, the Groom, was so thrilled with the result, he texted me:


Awwww!!! What a gorgeous thing to do – make his wife feel the most gorgeous version of herself on their wedding day and organise all of that as a beautiful, secret surprise to pamper his love. What an utterly romantic and sweet man! (And what a smart man he is! – HAPPY WIFE, HAPPY LIFE!)
And below were was the gorgeous makeovers of Cindy's hilarious sister with the killer cheekbones and amazing brows, who had me giggling the whole service, and Cindy's beautiful best friend. GORGEOUS, just gorgeous!
Happy marriage, Bradyn & Cindy. Love from Peta-Gai & the Iridis Team xox