About Us
Our Philosophy
Iridis Cosmetics is more than just a makeup company.
Iridis Cosmetics aims to change your entire approach to makeup – the way you purchase it, the way you use it, and even the way you feel about it. The days of going to the makeup counter, only to be intimidated by super-groomed sales assistants and overwhelmed by choice, are over. Iridis Cosmetics brings the makeup salon to you.
Your skilled and qualified Iridis Makeup Consultant will show you how to put your best face forward, so you're ready to take on the world. You will learn how to apply makeup that suits your lifestyle and your personality – in the comfort of your own home.
You will get to try the exceptional Iridis products, using the soft and precise Iridis brushes to see how the makeup looks and feels on you. Your expert Makeup Consultant will recommend the best products for you, and will apply them to highlight your individual beauty. And, they'll teach you how to use the cosmetics so you can recreate the looks.
Best of all, we welcome you to share the experience with your friends. By the end of a makeup session or an Iridis Makeup Party, you will know all the insider tips and have the skills to apply your own makeup quickly, easily and confidently.
Iridis Cosmetics wants makeup to be accessible to everyone. We teach you how to enhance your beauty in a hands-on, engaging and social way. So book a makeup session for yourself, or host an Iridis Makeup Party for you and your girlfriends. Learn the tricks of the makeup trade so you can look and feel fabulous every day.
Of course, Iridis Cosmetics also offers extensive Hair & Makeup Services, for all occasions where you want to look utterly gorgeous; be it your wedding, a special night out, a school formal or debut, or any other time you need to feel extra beautiful.
About Iridis
Iridis Cosmetics was founded in 2008 by Peta-Gai (PG) McLaughlin and Kelly Lowe, who based the company's concept on a long-held dream of Peta-Gai's.  As Peta-Gai has been in love with makeup ever since she can remember, she partnered with Kelly to make her dreams of developing a luxurious cosmetics line and showing women everywhere just how gorgeous they are, a reality.
After an extensive and thoughtful development period, Peta-Gai and Kelly launched Iridis Cosmetics, which true to PG's dreams includes its own exceptional makeup brand. Iridis Cosmetics is now rivalling top makeup companies in quality, range, service and overall excellence.
Iridis Cosmetics is based in Newport, a western suburb of Melbourne, Victoria. Iridis provides mobile services to Melbourne's CBD and Melbourne suburbs. A travel fee may apply for some areas.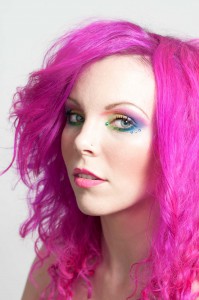 'Iridis' is Latin for 'rainbow', so for Peta-Gai and Kelly, the name conjures a delicious array of beautiful imagery – iridescence, colour, joy, happiness, pride and elation – a collection that pretty much sums up what Iridis Cosmetics is all about. You might even find a pot of gold at the end of this rainbow!
Rainbows are important to Iridis. This is why there is a rainbow in the logo, and it's why you'll see vibrant colour in Iridis photos and makeup collection.
Join the Iridis Team
Are you a qualified and talented makeup artist? Do you want to work with an outstanding line of products that you can confidently recommend? Do you want the support and infrastructure of an emerging and dynamic brand?
Join the Iridis Cosmetics team as an Iridis Makeup Consultant. Iridis offers amazing incentives and bonuses for talented makeup artists, who want to get out from behind the makeup counter and be freed from the unpredictable freelance market.
As a successful applicant, Iridis will provide you with a solid and proven framework within which to build your own business, so you will have financial freedom to do the things you want to do in life.
Find out more, or contact Iridis Cosmetics today.