Iridis is COVID-19 Safe
What Iridis Makeup Artists & Beauty Technicians are doing in a post-COVID-19 World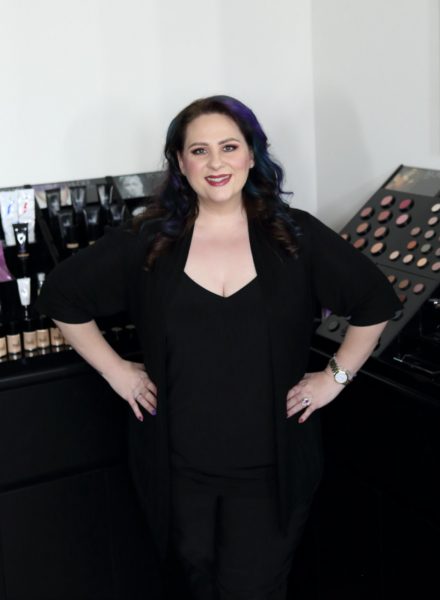 Good Hygiene and infection control has been a huge focus of the team at Iridis since our inception – it is a critical part of what we do.
Client Experience at Iridis
If you're an existing client of ours, or been to one of our Glamtorials®, you know that we take this all very seriously. In fact, the FIRST rule of an Iridis Glamtorial® is GOOD HYGIENE and one of the first things we teach you before the lesson starts. We:
show you how to not double dip into products
ply you with hand sanitiser
give you your own sanitised stainless steel palettes, binders and tools
show you how to use single use disposable tools
give you super clean and sanitised makeup brushes to use only for yourself and
importantly, we teach you why all of this is important to not spread infections, viruses, and bacteria.
If you've sat in our makeup chair or on our beauty table, you know that we run a tight ship when it comes to hygiene – we are all very particular on hygiene in general (because it's a risk to our kits and ourselves if we do not!) and would we would describe ourselves as anally retentive clean artists. (Kinda proudly tbh.)
But, we are in a global pandemic. And Iridis is taking a risk-based approach to our business and this pandemic. There are things we've done with our hygiene practices, where we taken things to another level again, depending on the risks as we assess them.
Below you will read what we are doing about hygiene and infection control, and what you can expect when you see us for any beauty services, makeup lessons or event hair and makeup, or even when you come and collect your products. This is extracted from our COVIDSafe Plan, in accordance with government guidelines.
We have created these plans and processes to reduce the risk of introduction and spread of COVID-19 at Iridis HQ, and we are maintaining records of everyone who has come to HQ, we are wearing the appropriate level of Personal Protective Equipment (PPE) as required by law and as required for best practice according to the risk assessments, we have a process to follow in the event of a suspected or confirmed case of coronvirus, and we are stringently aware of our responsibilites and obligations in relation to reducing and eradicating risks of tranmission of COVID-19 while we conduct our business. We are taking a risk management approach to our processes and have conducted a risk analysis of all of our work processes to ensure the health and safety of our clients and our staff.
We have written the Iridis Cosmetics Covid-19 Safe Work Plan – and it is compliant with the Victorian Government Beauty and Personal Care Guidelines for Coronavirus, as well as the 'Industry Restart Guidelines – Hair & Beauty Services'.
*IMPORTANT! WE WILL COMPLY WITH WHAT GOVERNMENT HAS ADVISED IT IS SAFE TO DO IN BUSINESS* THIS MAY CHANGE WITHOUT NOTICE TO YOU.
All Iridis staff have completed additional training in infection prevention & control from the Government and other online modules. We have all completed it as a requirement of working at the Iridis Studio. You can see our Certificates of Completion. All Iridis staff must adhere to the following processes, as required by law.
Client Appointments – duration longer than 15 minutes (beauty services, makeup appointments, lessons & product collection at Iridis HQ)
Before you arrive at Iridis HQ
Advise us of your health status and whether you have any cold or flu-like symptoms
If you are sick, you will need to reschedule your appointment as we will not proceed with it. We cannot do this by law.
If required, have your clean mask ready to go for your appointment – it may be a condition of your appointment, in accordance with Government Guidelines.
When you arrive at your appointment
Depending upon the Government restrictions in place, you may be required to wear a mask at all times, and we may be required to, too
where possible, we will maintain a physical distance of 1.5M (social distancing)
We will be adhering to the rules about density quotients and inform you of how many people we can have in the space at any one time.
We may take your temperature
Ask if you're unwell or are experiencing any cold or flu-like symptoms
Ask you to use hand sanitiser
You may need to wait outside for the last client to finish (bring your jacket/hat!) We will inform you if you can come in straight away or not.
While you're at your appointment
Please don't touch anything that is not necessary to your appointment
Depending upon restrictions in place at any time, if required at the time, you may have to wear your mask at all times. Note that you should refrain from touching the outside of your mask (it is where most of the germs accumulate as you breathe in).
Please let us know if you become unwell during the time you're with us; we may need to discontinue your appointment as we must ensure our safety and yours
Physical social distancing of 1.5M where we can (ie – not between client and person performing the service), and avoid interactions in close spaces
We will be adhering to density quotients and display those details for your understanding.
Please ensure you do not touch your face or your mask where possible.
What we have implemented at Iridis HQ for COVIDSafe
If required by law at the time of your appointment, we will be wearing clean masks to our client appointments and will change them regularly. Iridis will provide you with a mask if you do not turn up to your appointment with one and you are currently required to wear one by law. It be may condition of entry that you wear a mask at all times you are at Iridis HQ, until further advised. We will let you know what is required.
We will be cleaning way more regularly on a set schedule, and between clients, including all of the touch points in the business. This includes the use of an anti-viral cleaner (known to remove coronavirus), and 70% isopropyl alcohol on all relevant surfaces, tools, brushes, equipment, tables, eftpos machine, brushes, countertops, sinks, door handles, hand rails, counters etc (not an exhaustive list).
We are doing regular deep cleans with a professional cleaner.
Our regular cleaning will include disinfecting toilets, sinks, kitchen and other 'common areas' used by staff and clients..
Staff must be free of symptoms, may be temperature tested, use hand sanitiser constantly, and report any symptoms immediately
We have a lot of hand sanitiser available to you for use around the studio, plus areas to wash your hands.
We are limiting the number of people who can be at the studio at any one time to comply with the laws (1 person per 4 metre square rule).
We may not be permitted to attend your premises or venue to perform our servics – this will be considered on a case by case basis and based on the restrictions in place at any one time.
We will be avoiding interaction in enclosed spaces.
We will keep records of all staff who interact together.
Shoes must be worn at all times.
Signage will be available onsite for clients and staff to understand Iridis' obligations.
We are reviewing the government guidelines regularly, as they are updated, to ensure Iridis is compliant at all times and will make adjustments as needed to remain CovidSafe.
This document will be a 'living document', updated from time to time and assessed and amended according to the risks we are dealing with at any one moment during this pandemic. Being a risk-based approach, our practices may change without notice as a result of a change in the risks we are facing. We will be working to best practice to minimise risks.
Workers/Staff or Clients who become unwell or receive a positive COVID test result
Should one of our workers or staff experience cold/flu-like symptoms, they must be sent home. Deep cleaning will be performed, and the worker will need to have a COVID test and can only re-attend Iridis once the test was confirmed negative.
Should a client, worker or staff member receive a positive test result for COVID, Iridis will be shut down immediately, and deep cleaned by professional cleaners, using appropriate anti-viral products. Iridis will report fully and work closely with the Government to take all action required to deal with the situation within 24 hours of notice of a positive result. (DHHS & WorkSafe)
The worker/staff member will be required to self isolate at home after a positive result, and take appropriate action for their families.
Iridis will determine what areas of the business was affected and take cleaning and other action as required.
All doors and windows will be opened to increase air circulation.
The privacy of the staff/worker or client will be maintained at all points, apart from what is required by law.
Iridis will comply and work fully with the DHHS to reopen.
What we've done with our makeup and tools for extra hygiene
All Iridis staff have undergone the government training on infection control.
Between clients, we have a documented cleaning system in place, and have scheduled clients to have sufficient time for cleaning to the appropriate standard.
All tools and brushes will be used on one client before being 'deep cleaned'. Brushes never have been, and never will be, sprayed with brush cleaner between clients – that has never been a sufficient clean at Iridis and never will be!
We have put lids on all our testers (which were for show anyway – not ever used on the face).
Please don't touch the testers – we can provide you with sanitised and separate products for you to use as samples.
If you'd like to try our products, a qualified Makeup Artist will assist you.
We have continued to have our separate kit with all the products we use on our clients and this is guarded tightly – even more than before.
We are using an anti-viral cleaner (hospital grade disinfectant) and 70% isopropyl alcohol on all surfaces that can be cleaned – chairs, tables, stools, benches, etc.
We are washing our hands at regular intervals in the way advised by the Government, and we are all using sanitiser. We are mindful of the use of our hands at all times.
We will wear masks at all times where we are required to do so.
All towels and capes used will be laundered in hot water between clients. We may use disposable paper on our beauty tables.
Hair brushes will be sanitised in 70% isopropyl between clients.
Food will no longer be served in the open air on platters, to prevent cross contamination. (bring your water bottle and snacks!) If we organise catering, it will comply with the correct regulations to ensure we are compliant with any food handling.
How we now use our makeup kits and beauty tools
Whilst we are known for our amazing service and fun and entertaining demeanor, your safety is our priority.
Our makeup kits are our pride and joy and worth a fortune – these are products are guarded intensely.
We've always been very focussed on hygiene and making sure that we do not cross contaminate, so you've seen us always decant wet products onto a sanitised stainless steel palette – ie foundation, concealer, primer, moisturiser etc
We never use products straight from the tube to your face.
Depending upon the current number of cases, we will be taking a risk-based approach about how we use powder products – for example, we may apply powder products differently from before Covid, by scraping them onto tissues to then apply onto your face, so we don't "double dip" into powders. Previously, we were most concerned about bacteria – it can't live on dry products, but does live in wet products (which is why they have a use by date), so we didn't worry if you dipped into a blusher and put it back on your cheek – same thing when we are doing your makeup. But now, the virus may be able to live on dry products as well, so we will take extra precautions when the risks are high.
We will prevent handling products more than is required.
Everything is sanitised with 70% isopropyl within an inch of its life! We use that stuff liberally! We choose tools which are non porous.
We use a general anti-viral cleaner/hospital grade disinfectant that has been certified to kill coronavirus.
We won't be re-using towels, or have any hand towels available. Although this increases our carbon foot print, which is a very important issue to us, we are considering the contamination risk is the highest priority right now.
We will continue to use disposables for all wet products – like mascara wands, lip brushes etc. We will sanitise, sharpen and sanitise again our pencils.
We will be very mindful of everything we are doing and how we are doing it to ensure the highest levels of hygiene are achieved.
We will not touch our face, adjust masks or do anything that could compromise hygiene.
We have to reduce the numbers of people in the studio at any one time and will be adhering strictly to that. This means that when we re-launch our Glamtorials, we'll have less of you in the room at once and how we serve food and drink will be different.
We have also been moving our Glamtorials and 1-on-1 lessons online, so all of our interstate clients can get a bit of Iridis makeup lesson magic even if they're not in Melbourne to experience it themselves.
Our appointment times may be increased to take account of this extra work and time.
We will continue to provide you with the extremely high level of service you've come to expect from us and we will keep us all as safe as possible during this trying time.
Photos: Iridis Team above – from L: Rachael, Peta-Gai & Mandi, photograph by Nancy Morrison.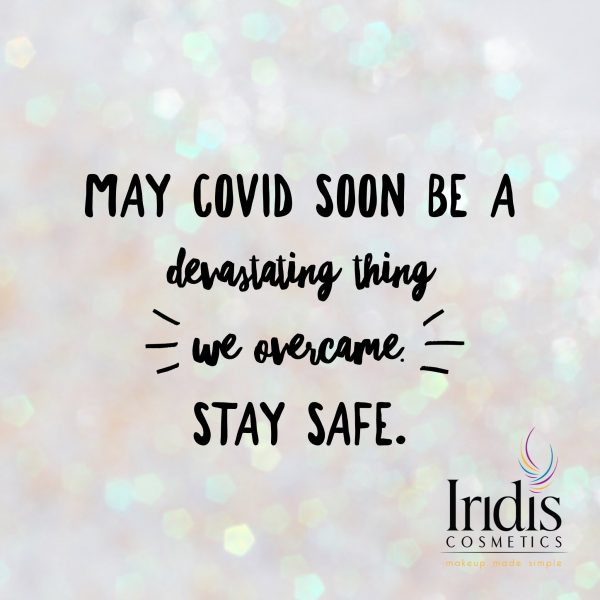 makeup artists covid
corona virus makeup artists
is it safe to get my brows done
is it safe to get my lashes done
is it safe to see a makeup artist
makeup artists and covid
covidsafe plan makeup artists
can i get my lashes done
can I get my brows done
can i get my makeup done
beauty services covid safe
beauty services covidsafe