Beautiful Basics Workshop
💄 5 HOUR MAKEUP WORKSHOP at Iridis HQ in Yarraville – "The Beautiful Basics" Glamtorial®️. $169
We have a carefully-developed and tried and tested makeup lesson process we've created called a "Glamtorial"®️. We supply everything! You just turn up with an open mind and we supply the rest!
Be prepared to experience something you've never seen before! A group makeup lesson, with you applying makeup to your own gorgeous face, learning what will suit YOU and your features, and building your skill level as you work through each feature. You are professionally color matched, by an expert Iridis Makeup Artist Educator, to ensure all the correct formulations and shades so you can create a beautiful look to suit your skin, age, eye and hair color and your personality. We cover everything from skin care, to foundation, brows, blush, eyes and lips! You won't ever look orange again. 🤣
NOTE: we are practising our usual (some may say anal-retentive) hygiene protocols, but with COVID-19, we are taking things to the next level for your safety and ours. We will be practising social distancing, extra hygiene steps and limiting the numbers of clients at the studio, consistent with Government guidelines, in force at the time of the Workshop. Our usual amazing customer service will continue!
Iridis is in the business of teaching women to view themselves in a much more positive and beautiful light. ☺️ We have taught over 4000 women how uplevel their makeup game – our Glamtorials®️ suit beginners and advanced makeup lovers!
You will learn:
🔸 Whether your Makeup colours are flattering you, and if not, which colors you *should* be wearing
🔸 the tricks to flawless skin at any age
🔸 the secrets makeup artists use to enhance your features
➡️ eye shadow illusions to make your eyes look bigger and more expressive
➡️ contouring and highlighting to sculpt your face, minimizing jawlines and noses and emphasizing cheekbones
➡️ understanding which colors (foundation, cheeks, eyes, brows and lips) suit you after you've been professionally colour-matched
🔸 how to create an polished day time look easily, using the right products and how to turn that into a bit of evening glam in 10 minutes!
🔸 Iridis self-love tricks, so you'll feel more positive about your appearance, learn to see the beauty in your face, find the things that make you most beautiful, feel more confident and gorgeous, so you can go and take on the world!
🔸 Receive takeaway hand outs, reference sheets and diagrams to help you refresh your memory on the techniques you've learned
🔸Use a premium, cruelty-free makeup range, created by us and manufactured in the US and Canada.
🍾 🥂🍷Glass of bubbly, wine or soft drink and
🧀🥕🍎🧁 Grazing platter for lunch
🛍 Lucky Door Prize valued at $150
👩🏼‍🎨 5 Hour, hands-on Lesson focusing on a quick, fresh and polished look for day and how to turn it into a smokin' night time look in 10 minutes – finally get that expert advice you've been trying to find for years.
🌟 $169 per person
👩🏻 👩🏼Bring a friend and you both get two entries into the Lucky Door Prize!
Book now to secure your place! $169 for the five hour lesson, glass (or two) of bubbly or wine, and an entry into the lucky door prize, valued at $150!
Please note your tickets are non-refundable for these workshops, as we have minimum numbers to meet to ensure the workshop proceeds. You are able to reschedule your ticket once in the case of illness or other issue.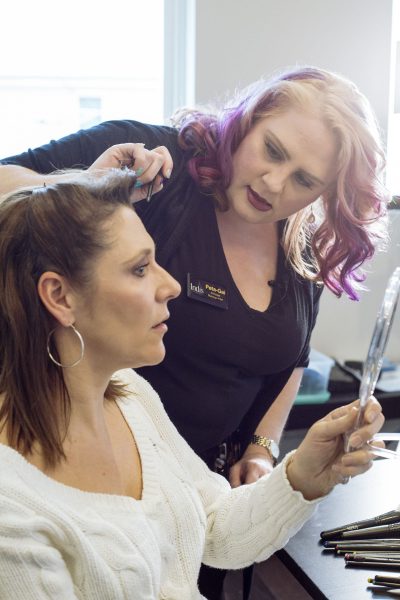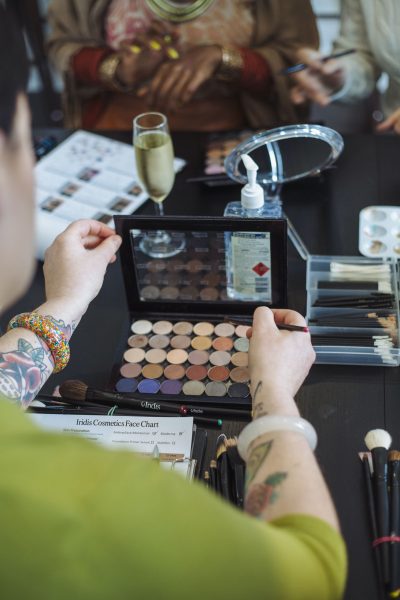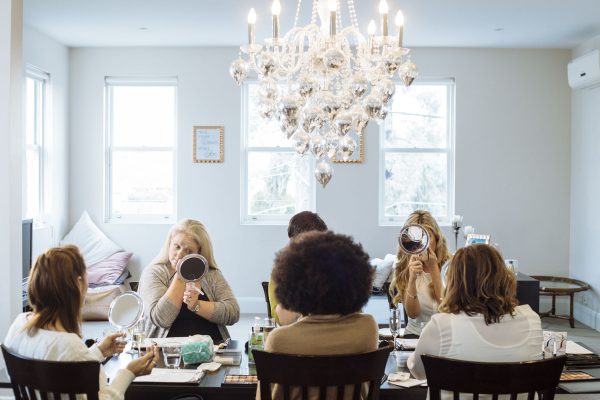 About Peta-Gai, your Makeup Artist Educator & Founder of Iridis Cosmetics
Workshops at Iridis HQ in Yarraville are mainly run by Peta-Gai, Iridis Founder. Peta-Gai is passionate and extremely knowledgable when it comes to makeup, and is patient, kind and understanding as a teacher. She is a vibrant, motivating and energetic presenter, who will not only teach you how to apply your own makeup, but will also show you how to find the thing that makes you most gorgeous, and demonstrate why it's important to focus on all the things that make you beautiful (even if you can't see those things – she will!) You'll be applying makeup to your own face, following along with the demo we do on the model, and by watching our step by step photos and reviewing your Glamtorial worksheets and handouts. There's lots of time for questions. And if you need makeup top ups, you are also eligible to buy the Iridis Glamtorial Makeup Packs which are discounted and are not available online.