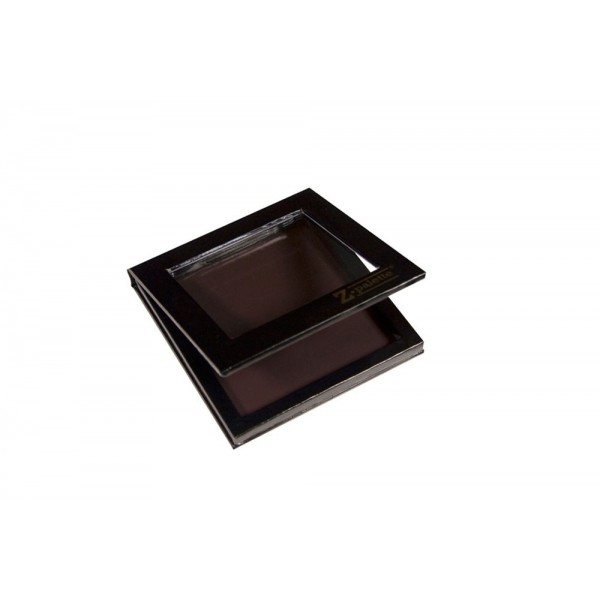 Z Palette Small
Product Description
Iridis Cosmetics knows that true makeup artistry begins with colour choices that inspire gorgeousness. Don't get stuck with shades you don't like and won't wear. Create your own customised palette from our array of stunning colours. Let your creativity shine, and your imagination go wild!
How many eyeshadows would you like?
Iridis 5 Well Eyeshadow Palette – a perfect fit for your purse, makeup bag, or gym bag
Z Palette 9 Well Eyeshadow Palette – a great addition to your makeup kit ( The Small Z Palette measures: 9.6cm x 9.6cm x 1.1cm.)
Z Palette 26 Well Eyeshadow Palette – all the colours a glamour gal could want! (The Large Z Palette measures:  20.3cm x 12cm x 1.1cm.)
Z Palette 28 Well PRO Eyeshadow Palette – the "professional" palette to suit Makeup Artists and those who like to have choice galore! (The Pro Palette is a little larger and deeper than the Large Z-Palette, and fits more pans in it. It measures 20.6cm long, 14cm wide and 1.5cm deep.)
Please note that this product group contains the empty eyeshadow Palettes, and you can click here to choose the eyeshadow refills you'd like to add to your Palettes. These refills are purchased separately at a cost of $22 each.
Or, if you know you want to fill the palette, check out this special deal. If you buy one of the Iridis Filled Eyeshadow Palettes you will receive up to 15% off the price you'll pay if you buy these items separately.
For best results, we recommend you purchase the Iridis Eye & Lip Primer to use with these eyeshadows. It helps prevent creasing, provides the perfect base to showcase the eyeshadow's true colour, and will help the eyeshadow last longer.
More about Z Palettes
Iridis Cosmetics is proud to be a distributor for the patented Z Palette, which is an exclusive custom palette designed by an Emmy-award winning Hollywood makeup artist. This palette gives you the freedom to choose the colours you love and keep them in an accessible and streamlined palette. The palette has a sleek and clean design that offers the strength of a plastic palette, while using eco-friendly recyclable materials. Fold the top portion completely under the bottom portion for a space saving feature on your vanity or makeup station.
The Z Palette is the only one of its kind that includes both a clear window and an open magnetic base to fit any size shadow, blush, bronzer, some foundations and even de-potted lipsticks. The perfect way to see all your colours at once, making choosing easier and more efficient! Hint: You can de-pot your other eyeshadows (or other products) and pop them in a Z Palette, so you can see all your shades at once glance. It's easy to de-pot makeup – click here for how-to tutorials.