Cosmetic ZZ Cream – Treats Acne & Rosacea
$90.00
Description
A cure for acne & rosacea? REALLY?
Yes, really. This Cosmetic ZZ Cream is an amazing product to clear problem skin – unlike any other product on the market. We came across it via some training with an International Makeup Artist Educator on skin, and it has changed the skin of hundreds of thousands of men and women. If you want clear your acne, this is the product! If you want to cure rosacea – this is your product! This is truly the best acne and rosacea treatment available. It was created with years of research and is based on Chinese Herbalist medicine by the prominent and celebrated Professor Zhao.
Cosmetic ZZ Cream is the famous ZhongZhou ointment in cosmetic form and is a perfect solution for acne and rosacea to help clear your skin. Consistent use, morning and night, will clear your skin. It is also a cure for rosacea that actually works.
How does it work?
The reason is works on acne and rosacea is all down to DEMODEX MITES – these fascinating creatures eat your dead skin cells, but are kind of gross in that these nocturnal mites procreate on your skin, eat up all the dead skin (they live in the hair on your face – eyeslashes and eyebrows) – and – GET THIS – they don't have anuses. So they eat and eat, have sex on your face, and then, eat so much they just *explode*. Is that the grossest thing you've heard? Is that the BEST reason to wash your face in the morning, like ever? Yes. Yes it is. (lol)
Many types of acne is caused by the bacteria that these Demodex Mites create on the skin, and this ZZ Cream will neutralise that bacteria. Add in a consistent skin routine with a top quality range of products – Cleansing, Toning, Eye Cream, Serum and Day & Night Moisturisers, and your skin will clear. If you need help with Skincare, you can always book in a free Mini Skin Consultation with us. We recommend the use of the Janssen range of skincare, which we can assist you with. You must moisturise well when using the ZZ Cream, as it will dry out your skin.
Most Rosacea is caused by an overinfestation of these Demodex Mites, where they eat off too much skin – causing the redness, dryness and scaliness, which are all classic rosacea characteristics.
The ZZ Cream is the solution to kill off the bacteria and excess mites that cause rosacea and acne.
Instructions for Use:
Step 1 – Before application, wash the face and hands with warm water and a neutral cleanser, and then pat the face dry. Apply toner and/or serum if using.
Step 2 – Apply small amounts of the ZZ Cream on the affected areas of your face with your finger and then gently rub the cream into those affected areas – there's no need to apply it all over the face – just to the areas that have the rosacea or acne.
Step 3 – Moisturise with a good quality moisturiser over the top of the ZZ Cream. It is essential to moisturise, and moisturise well when using this product – ZZ Cream dries the skin out (it needs to do that to work properly, and this is a short term problem that is worth going through to get clear skin).
Repeat the procedure twice a day, for 90 days if treating acne or demodex folliculorum (on the face) and 120 days if treating demodex brevis (on the chest/neck/back). This isn't a quick fix, but you will see a change within a week or two and again at the one month mark.
Other things to note while using ZZ Cream
Try to avoid using too much makeup during the treatment, eat more essential fatty acides (avocado, omega 3s & 6s) and taking 5-10mg of Vitamin B2 (riboflavin) 3 times a day will also assist with skin healing and skin improvements. As bacteria is often the culprit behind acne and pimples, it is essential not to pick at pimples (we know, we know – it's almost irresistible at times!), but you are just transferring more bacteria into the area, spreading the bacteria of existing pimples, which causes MORE PIMPLES. So, if you want clear skin – no picking!
We have had some amazing results with this cream, and if you would like to contact us Contact Us to have a free of charge Mini Skin Consultation, please get in touch and we can do these over the phone or email.
Please note – the sulphur ingredient can be a strong smell for some people – but it works!
DUE TO THE REPUTATION OF THIS PRODUCT – there are a lot of lesser quality imitations on the market. (Even calling themselves ZZ Cream!) but this is the original and the best. Its proprietary blend of chinese herbs make this the cream that will actually work. This is the GENUINE and ORIGINAL. Iridis is an Authorised Distributor of this product.
Look at these amazing before and afters!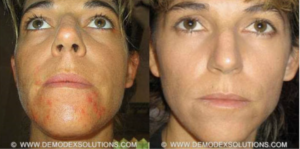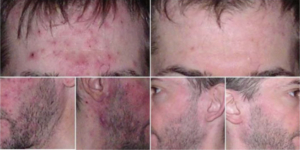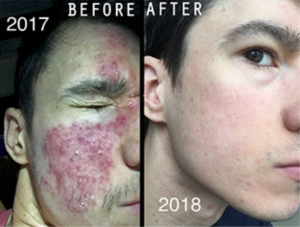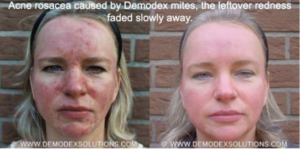 Ingredients:
Propylene Glycol, Stearyl Alcohol, Stearic Acid, Sulfur, Zinc Oxide, Glycerin, Isopropyl Myristate, Petrolatum, Glyceryl Stearate, Dimethicone, Menthol, Lanolin, Polysorbate 80, Sorbitan Stearate, Triticum Vulgare Germ Oil, Salycilic Acid, Sodium Hypochlorite, Sodium Lauryl Sulfate and many Chinese herbs.
Only logged in customers who have purchased this product may leave a review.