Debutantes & School Formal Glamness
Iridis Cosmetics loves being involved in such an important rite of passage for young women, the School Formal or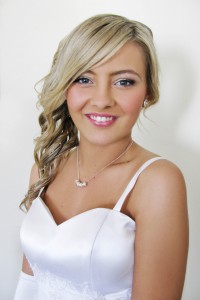 your Debut – or if you are super lucky, both. The first important glamorous event in your life should be one to remember. Let Iridis help create beautiful memories of gorgeous glamness, which you can treasure for years to come. Hair and Makeup for School Formals and Debuts is one of our most treasured forms of client work.
We will create the ideal Formal or Debutante look for the teen beauty, tailored to your special personality. From 'Naturally-enhanced Beauty' to 'Gorgeous Glamazon' and everything in between, Iridis will create the perfect makeup look for you. Whether you're after a textured up do, or long and luscious curls, we will create a beautiful hair style to suit your face, makeup and importantly, the dress!
Group discounts apply for a bunch of besties getting ready together, travel fees may apply. Contact Iridis for more information.
Debutante: Emma, wearing Iridis Lipstick in 'Glama', 'Flamingo' Lush Lips, Eye Shimmer in 'White Diamond' & Iridis Lash-tacular® Individual False Lashes. Makeup by Peta-Gai McLaughlin.