Consulting Services for Makeup Artists and Creatives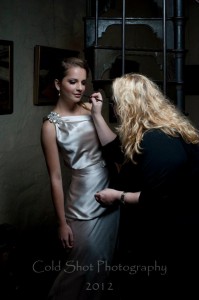 Peta-Gai, the creator of Iridis Cosmetics, built a successful career in the legal world for 17 years, before becoming a Makeup Artist Entrepreneur. The business lessons she learned as a lawyer, especially running a $90M superannuation fund, are directly relatable to the makeup world and have been the secret of the success of Iridis Cosmetics.
Peta-Gai hasn't just approached Iridis Cosmetics like a makeup artist would. She has approached the business like an astute lawyer, and that has been a key reason for her success and Iridis' continued growth. The Iridis idea is unlike anything else in the market place, and if you're a Makeup Artist or other Creative who needs some guidance in business, then a consultation with Peta-Gai could do you and your business, wonders.
People from many different creative and business sectors ask Peta-Gai to mentor them, and to give them her insights on how to get their business working for them, and how to build a successful and profitable business doing what they love.
Due to this demand, Peta-Gai now offers a consulting service for Makeup Artists and other Creatives, such as photographers. She will work with you and your business, either on a one-off issue, or for regular meetings to develop and guide your business to continued success.
Peta-Gai has created many proven template documents and policies to assist in managing and running a successful business, and will share these with you as part of the consulting services. Peta-Gai can also consult on various issues faced by sole traders and freelance Creatives, for example:
How to get started making money as a Makeup Artist
How to make money out of your creative work
How to build rapport quickly, easily and genuinely with clients and industry professionals
How to market you and your business, especially in a world that values personal branding
How to identify your point of difference, and how to highlight this with clients
Pricing perfection – how to set prices that show your value, and how to be confident talking about your prices
Your makeup kit – what you should have in it, how to downsize and still have everything you need, and contingency products that make your life easier
Career direction – where do you want to go and how you can get there?
Traversing the Social Media minefield – and why it's essential that you're part of the conversation in a genuine, warm and interactive way
Networking secrets – how to ensure you're remembered (for all the right reasons!), and how to build your networks of professionals
How to have productive photos shoots – gathering information and planning, meeting your client's expectations, directing models, how to put people at ease, how to create conceptual or creative photo shoots
How to liaise with photographers and models, plan a photo shoot, protect your interests, and get the images you want for your portfolio
How to talk yourself up without seeming desperate
Building your confidence and remaining positive, even in times of a business lull – and what to do to get out of the lull
How to create the business of your dreams
And any other niggling issues where you'd like some guidance
Peta-Gai's consultation rates are negotiable. You may opt to invest in a one-off consultation, a series of consultations, or a Makeup Business Mentoring Package tailored to your business. Contact Peta-Gai for more information.
Model: Holly Read, wearing Iridis Lipstick in Au Naturel. Hair & Makeup by Peta-Gai McLaughlin, Couture Gown by Deborah Selleck, Photography by Junel Santos, of Cold Shot Photography.