Brides, Bridesmaid & Weddings
Wedding Day Hair & Makeup
From Peta-Gai, Iridis Makeup Guru: "I am always thrilled to be the Hair & Makeup Artist selected to help you create the bridal look you've envisioned and dreamed about for years. It's an honour to be part of your special day, and I responsibility I do not take lightly. I love working with you to achieve a makeup look that suits your features, gown and the style of your wedding. I love weddings and brides and have a passion to make you feel extraordinarily beautiful on your most photographed day of your life.
I am always punctual, reliable and calm and will make you look and feel like the star of the show – as you should on your wedding day! Whether you're after a simple and natural look to enhance your natural beauty, or something more glam to make your guests marvel at your loveliness and poise, I will work with you to create your ideal bridal look.
I encourage my clients to be open, completely honest and share with me their ideas for their wedding – this is all about YOU and I want to make you the 'most beautiful you' you've ever seen."
At Iridis, we believe in creating a tailored package for your wedding Hair & Makeup, so we ask that you call us on 1300 474 347 or email us to have a chat with Peta-Gai to share your vision of your wedding day styling, so we can create a Custom Bridal Package to suit your style, vision and budget.
Wedding Hair & Makeup Trial
An Iridis Hair & Makeup Trial is an absolute must to ensure that we capture the exact look you are after as a Bride. Unlike other artists, we send you a detailed Bridal Questionnaire to complete to share your bridal vision with us, so we don't miss any details from your big day. Then we organise your Hair and Makeup Trial and get you fabulously gorgeous. We allocate adequate time to ensure we fully understand your aesthetic and fully apply the makeup, and style your hair, exactly as it would be on your wedding day – so there's no surprises on the wedding day . We have a 99% booking rate from trials to weddings and we know that the way that we conduct our trials are different from other artists, as we really take the time to ensure you're completely satisfied.
Bridal Makeup Trials take place in the Iridis Makeup Studio in Yarraville, or we can come to you at an additional cost. We recommend the studio, as it is set up to be free from distractions, so the focus is on you and your bridal party.
Wedding Day Hair & Makeup
On your wedding day, we guarantee we will have you ready on time, we will bring with us our A-Game, a fantasically calm manner, upbeat positivity and a sense of fun, and give you the real celebrity treatment! We are known for our passion for makeup and customer service, our exquisite makeup and hair styling, and the ability to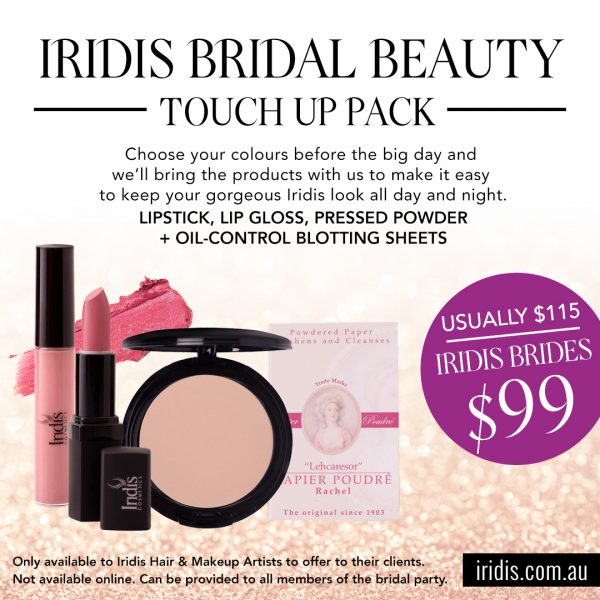 make you feel extraordinarily beautiful.
Related information:
We have a gorgeous Iridis Bridal Beauty Touch-up Pack for your purchase at a reduced discount rate for you and your bridal party.
Refer to our Services Terms & Conditions for the full T&Cs that apply to bridal bookings.
Note, Minimum charge for weddings is $400.00.
Contact Iridis for more information.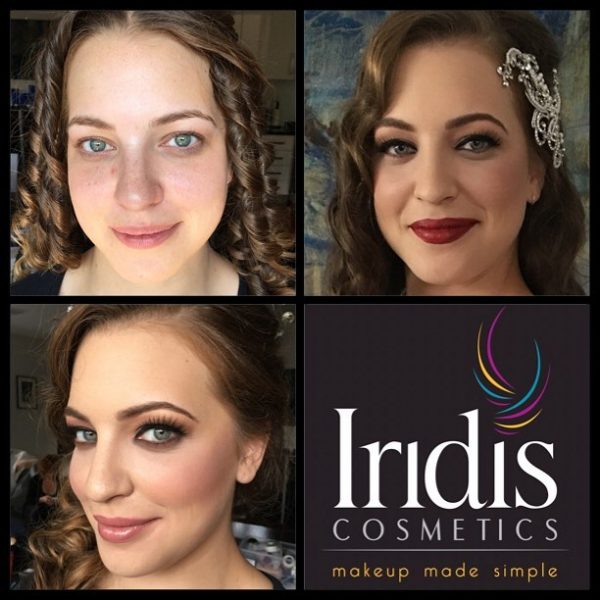 Real life Bride (top Blonde): Ashlee, wearing Iridis Neutral Eyeshadow Shades (Wana, Latte & Desert) and Iridis Eye Shimmer, Individual Lash-tacular® False Lashes, and Lipstick in Love Lust. Makeup by Peta-Gai McLaughlin, Photography by Immerse Photography.
Photo Shoot Bride (bottom Brunette): Stavroula with two different bridal looks for a Bridal Photog Shoot (Vintage Glam & Smoky Boho Bride)