Event & Special Occasion Makeup
Special occasion or Event coming up? Let us help you feel gorgeous!

Sometimes you just need to feel a bit more special than you do every day. Be it for a special event, a family occasion, a hot date with your beloved, a job interview, a celebration, a holiday party, an important presentation at work, or a special night out, sometimes you just want some 'knock-their-socks-off' gorgeousness.
That's where Iridis comes in. Hair & Makeup for your next big event is our speciality. We can create everything from a pretty, elegant and 'natural' look, or if you're after something more glam and polished, we can create whatever hair and makeup look you desire.
Our Iridis Makeup Artist will create a gorgeous makeup look, within an hour, (and for hair styling add another 30-60 minutes, depending on your choice of style) to suit the occasion or event and your personality. You're welcome to take a few selfies of your gorgeous self in our professional makeup lights to catpure the moment!
SPECIAL OFFER: Book both your Hair & Makeup Glammification for the in-studio "Get Me Gorgeous Package" for $270.00, including lashes, an Iridis Lipstick or Gloss valued at $35, for touch ups, the hair style of your choice, and the extra lavish attention of Peta-Gai. (Package valued at $330.)
Model: Sheree Moon, wearing Iridis Lipstick in 'Dewy' and Eyeshadow in 'Backdrop'. Hair & Makeup by Peta-Gai McLaughlin, Couture Gown by Zian Assad Couture, Photography by Shane Anthony Photography.
Need to look gross or creepy for that fun event?
Includes zombies, vampires, goth and other fancy dress creatures of grossness. Starting from $150 (Incl. GST) Contact Iridis for more information.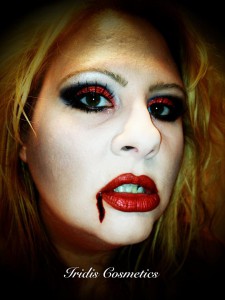 Model: Peta-Gai herself, looking all Sexily, Scarily Vampish for Halloween. Hair & Makeup and Photography by Peta-Gai McLaughlin.